Car leasing in Switzerland
Hey! It looks like you've finally made it to Switzerland. But, wait! Have you thought about a car for driving out and exploring the beautiful place? If you are thinking of leasing a car rather than buying one, you are on the right track. Well, owning a car might look nice from the outside, but in reality, it is full of hassle. Those who opt for a brand new car, have to think about down payments, paying monthly car loans with interest, maintaining the car, etc. Once they get bored with it, they either sell it or trade it in. The whole procedure of owning a car is quite a pain indeed. But when you lease, you don't need to worry about these things. Once the certain period of leasing gets over, all you have to do is hand over the car to the company. Hence, it is a hassle-free, simple, and sustainable process.
Car leasing companies in Switzerland
So, what are the best car leasing companies in Switzerland and which of them offers the best terms and conditions? We have listed below the most frequently used car leasing companies in Switzerland.
TIP: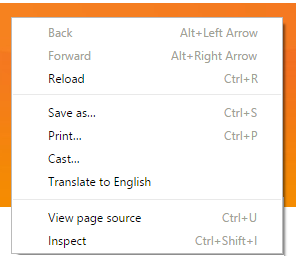 If you land on the website of an car lease company (which is often in Swiss), make a right mouse-click anywhere on the page (this only works with Google Chrome!). A small dropdown menu will appear and then it will say; "translate this page to English" (or any other language). This will make it better understandable and easier for you to make the right decision.
Car rental period in Switzerland: short-term vs. long-term lease
When it comes to foreigners, Swiss car leasing companies offer huge varieties. From one day to several years, you can lease a car at your convenience in Switzerland.
Now, let's have a look at some pros of renting cars for short periods in Switzerland.
You get new cars right from the manufacturer.
A short-term car lease saves cash. Here, you don't have to pay any tax or other long-term payments.
You can pick up your vehicle from one locality and drop it at another. It is the best option for foreigners who have come to visit the place for a few days.
All 18+ eligible drivers with licenses can drive a car that belongs to a short-term lease.
Pros of long-term car lease:
You get the car for more than 36 to 48 months.
You have to spend lower monthly installment fees.
When you lease a car under a long-term lease, your millage allowance for allotment gets increased accordingly.
You can select whether you want to drop the car or you want the leasing company to pick up the car from your place at the end of the leasing term.
So, let's go through this guide and explore all about car lease in Switzerland.
What are some advantages of leasing a car?
It's cost-effective
Leasing a car is profitable for its cost-effectiveness. When you buy a new car, you have to spend lots of upfront fees as a down payment. Paradoxically, you don't need to pay a heavy down payment while leasing a car. So, as an ex-pat, if you do not want to spend a car loan or the upfront fees of buying a new car, you can get your hands on a leasing car without a second thought.
Inexpensive monthly installment
The monthly pay rate will be inexpensive for you when you lease a car. The best part is that you can set the installment period as well as the monthly payment by discussing it with your car leasing firm. These fees cover all expenditure, insurance, and other service charges without being heavy. It's a great relief for many of us.
New car, new experience
Leasing means renting the car of your choice for one, or three, or more years. After the leasing period gets over, all you have to do is to return the vehicle to the company. On the other hand, you can get your hands on another new car once the leasing term gets over. It will be a great experience, especially for foreigners to drive a new car in a foreign land every other year.
Great for business owners
For business owners, leasing a car is beneficial than buying a new one. When you lease a car as a business owner, your leased car offers tax advantages sometimes.
Car leasing procedure
Now, when you know all ups and downs of leasing cars in Switzerland, it is time to understand the process of doing so practically.
At first, you have to select a company from where you want to lease the car.
Now, contact the firm and fix a meeting with the employees who work for the company.
Discuss your leasing period, installment fees, millage, dropping location, pick-up location, and other related details.
Read every contract detail, and finally seal the deal.
Once you get done with these processes, your chosen car will get delivered to you within a few days at your selected location. Now, you can drive or ride the car for the contracted period. At the end of the leasing period, the company will pick up the car from your place, or you will drop it at their place according to the contract. So, enjoy a safe journey!
---
FAQ about car leasing in Switzerland
Once the car lease agreement gets over, the leasing company collects the car from your place. At this point, you do not have to pay any money only if you follow all terms and conditions of your agreement. Now, you can opt for another car and enjoy riding once more. 
Generally, a car contract includes:
Free GB mainland delivery
Full manufacturer's warranty
Breakdown recovery
Road tax
However, maintenance and insurance services are not part of the contract, you can easily select them in return for some extra money.
Buying a car and leasing one is completely different from one another. Buying a car means you are the owner of the car who has to pay the car loan, and all maintenance fees while leasing generally charge lesser. With a leased car, you can get the experience of riding a new car every time without any excessive fees except the one-time leasing charge.
Leasing a car is always a better option when you do not want to pay the massive upfront fee and other maintenance charges. By leasing, you can pay with monthly or yearly installments and can enjoy the experience of riding new cars after each leasing period. But, when you purchase a car, you become the owner. As an owner, it becomes your responsibility to maintain the car, pay car loans, and other fees.